Thanks to all our great chalk artists.
If you would like a full-sized .jpg of your drawing,
e-mail Randy Lindel at rlindel@cambridgerotary.org
2016 Prize Winners
First Prize - Jessica Lander & Heidi Wickersham
Second Prize - Bridget Foster Reed Third Prize - Dennis Smith
First Youth Prize - Benji Bergman
Honorable Mention Prizes
Maxine Bloomberg, Hoey Cheah, Jana Corrado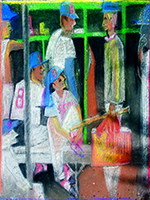 Carol Crouch, Taylor Crouch, Yuri Hayano,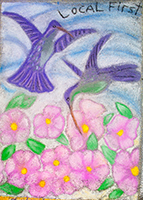 Mirelibooks & Paul Marinelli, Rob Sheridan,
Mary Ann Upton & Chad Leahy, Danielle White & Le Huongh
If you didn't collect your prize on Sunday, please contact
Randy Lindel - rlindel@cambridgerotary.org
First prize winners Heidi Wickersham and Jessica Lander, 2016 Chalk
Chairman Joanne Cohn and 2nd prize winner Bridget Foster Reed
Third prize winner Dennis Smith with Chalk Chair Joanne Cohn
Other Great Drawings
Carissa Blackburn, Ashlyn Bolton, Lizi Brown & Lucy Williams
Miriam Bruchelli, Laura Chadwell, Natalie Chilcote
?
Glenn Davis, DiGiovanni Family, Katherine Eckenfels
?
Nicole Gleason, Devon Govoni, Jeffrey Hodgen
?
Ka Ying Hung, Jessica Joy & Clyde Bango, Inna Komarovsky
Susan Jay Le, Hyun-Ji Lee, Robert Leiby
Brian MacDonald, Maggie O'Grady, Rowe Family
Jeremy Rummel, Jonathan Rummel, Lloyd Williams, Jr.